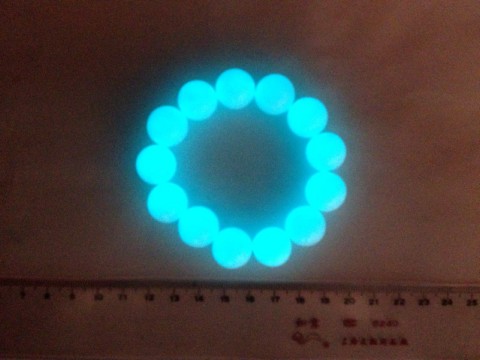 Details
Luminous gemstone, is also called glow in the dark gemstones, glow jade . It is artificial precious stone, which is made from exclusive micro crystalline quartz and photoluminescent pigment. The luminous gemstone surface is smooth and subtle, when exposed under sunlight or a light with 10 minutes, it can glow in the dark for more than 8 hours.

Luminous gemstone can be made into beads with a hole in the middle to make a necklace or bracelet .
Imagine it, how beautiful and magic is with a glowing ornament at night!
Type

Daytime color

Afterglow color

Diameter

(mm)

Weight

( g/piece)

HK/HM 8

Yellow-green

Blue-green

8±0.3

0.65-0.80

(hole)

HK 12

Yellow-green




12±0.5

2.2-2.8

(no hole)

HM14

Blue-green

14±0.5

3.3-4.9

(no hole)

HMR/HMG12

Blue-green

12±0.5

2.2--2.8

( hole )

HK/ HM16

Yellow-green

Blue-green

16±0.5

5-6

(hole)

HM30

Blue-green

30±0.5

36-38

(no hole)

HM16W

-bracelet

Blue-green

16±0.5

62.5

( 13 pieces)

HMR12-bracele

Blue-greent

12±0.5

35-37

( 16 pieces)

HMG12-bracelet

Blue-green




12±0.5

35-37

( 16 pieces)

HM Oval

Yellow-green

(25-28 )*

(15-16)

9.2-9.6

(hole)