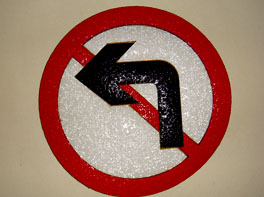 Preformed Colorful Reflective Road Sign
Details
Preformed colorful road sign is a kind of exposed reflective material. Its biggest advantage is it is pre-formed, that is, it can be manufactured into various marking, text, graphics, business LOGO, emblems, etc. according to user requirements. The installation is extremely easy and fast. During the day, its bright colors can remind and alert people;
At night or under poor lighting conditions, the strong reflection also effectively enhance the ability to identify drivers and pedestrians, reducing road safety risks.
♦Durable, brilliant line markings with bright, perfect color and never faded.
♦Accurately pre-cut symbols and logos.
♦Pre-beaded with superior glass beads that give high initial retro reflectivity - day and night, rain or shine.
♦With pressure-sensitive adhesive on the base material, easily bonding on concrete, asphalt, cement, marble and walls.
♦as parking signs and markings, airport signs and markings, electrical safety warning signs, pavement markings, pavement transportation signs, pavement warning tape, pavement diversion tape, pedestrian crossing, color-coded pedestrian crossing, creative zebra crossing, city logo pedestrian crossing, 3D signs, 3D logo, speed reduce signs, or underground pipeline signs.
Performance

Performing

Primary Part

Flexible Polymer, Paint, Glass Beads

Construction Method

Simple

Bowl、Brush、Lineation. It requires no other special instruments and personnel and will not affect traffics.

Reflectivity at
Nighttime

The base material contains glass beads. Therefore, even if the surface glass beads fall, it could still be reflected.

Paste
(Stability)

Strong

Cement road surface and high quality pitch road surface have very strong glue relay. Since base material has tenacity, cold epitome sound won't be heated and expand.

Abrasion Resistance

30mg

Weathering Resistance

Strong

Effect Life

More than 24 months

Applicability for the bland

Apply to all kinds of road surfaces, especially to the writing pattern and arrowhead. It is very convenient for constructions.